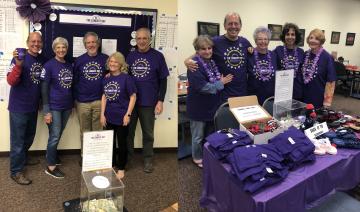 San Diego Bridge Unit 539 participated in The Longest Day, supporting the fight against Alzheimer's disease on Sunday, June 17th, 2018.
As a global partner of The Longest Day, the ACBL has supported hundreds of bridge clubs across the country for six years as a way of raising awareness and funds for Alzheimer's disease. Thus far, bridge players have raised more than $3.5 million for the Alzheimer's Association.
Thanks go out to all who participated in this year's Longest Day fundraiser. Once again, you have proven that you are an amazing group of people! Special thanks in particular to Judy Rimer for knitting the very popular fuzzy flip flops and hats, Beth Granby for sewing jewelry pouches and an adorable sock monkey, and Nira Levy for the beautiful jewelry raffle item. There were 26-1/2 tables playing the unit game. As a result, the unit raised $3,042.00 for The Longest Day.
Special thanks go to the entire team working on The Longest Day. Thank you to Lamya Agelidis and Kathy Byrne for heading up the team. Thank you to Marianne Klayman, Sue Wightman and the Huffakers who did an incredible job providing an abundance of delicious food. Thank you to Pete Moyer for tracking the finances for the event. Thank you to Gigette and Craig Caldwell, Mike Koscielski and Beth Granby for helping publicize the event on KUSI. (See link to the TV coverage below.) Thank you to Sarah Granby from the Alzheimer's Association of San Diego who donated countless t-shirts and support to the whole team throughout the entire event.
Our Director, Sebastian worked overtime behind the scenes. Thank you also to Wirt for allowing the Unit to publicize its efforts on the back bulletin board while also selling items and collecting donations during the week.
Mostly, thanks to you for supporting our efforts with your generous donations. It was fun to see so many players wearing purple for the event. We are already thinking of new things to add to next year's event.
Thank you all; you are the best!
Click on the photos to see a bigger version.