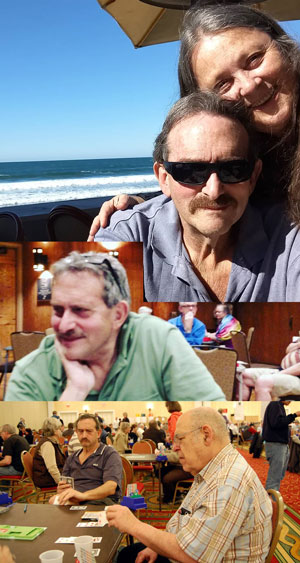 We are sad to report that Steve Cooper died of advanced prostrate cancer after a 12 year battle on March 30, 2021. He is survived by his beloved wife Kitty Munson Cooper.
At the time of his death, Steve was a Grand Life Master at Bridge. He won two National Bridge Championships playing with his wife Kitty: the 2000 Keohane North American three day Swiss Teams and the 2012 Senior Mixed Pairs. He also had many top ten finishes.
Steve loved his dogs, his wife Kitty, and RVing with them around the country to Bridge tournaments. They created a fund to help people pay for cancer care for their dogs at CSU in Fort Collins, Colorado. Please send contributions to the Mountain Girl Cooper fund at the CSU veterinary school in lieu of flowers.The URL to contribute to the Mountain Girl Cooper fund in Steve's honor is https://advancing.colostate.edu/DCGIVE*71995
Rick Roeder shared this sentiment:
RIP STEVE!
Steve Cooper was known to the bridge world as a Grand Life Master who won a mixed National teams with his wife, Kitty. Steve was an instinctual card player that was reflected in his rapid pace of play. One of the Coopers' greatest passions was to go on the road in their van, with their beloved dog, and find an RV park close to the site of a Western Regional. Steve's love of their RV was compounded by the fact that he would not fly - anywhere! The couple embraced the West, as their move to East County followed stints in Albuquerque and Colorado Springs.
Steve had a fine legal mind, although he retired from legal matters prior to moving to California. Those who knew Steve well were acutely aware of his political views as his beliefs were made with amazing frequency and even more amazing certitude. He definitely did not believe that there were two forbidden subjects to talk about in public: politics and religion.
As a result, some may have viewed Steve as one with a few "rough edges." However, judging a person superficially is often a fool's errand. This was true in Steve's case as he had a kind, gentle side.
Steve and Kitty had the good fortune to find each other in "mid-life". They clearly loved each other while they enjoyed their gardens and bucolic setting in the hills of East County. RIP, Steve!
See full obituary and other tributes on Bridge Winners website.